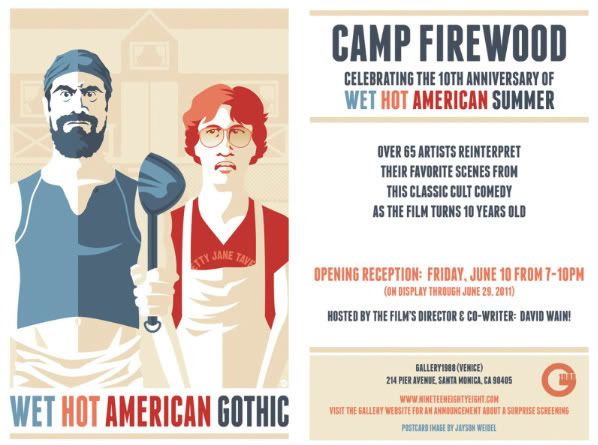 I have been really, really busy lately doing lots fun doodles. But there is a payoff in here somewhere... First off is another show at the amazing
Gallery 1988
called
Camp Firewood: Celebrating the 10th Anniversary of Wet Hot American Summer
.
Gallery1988: Venice will open "Camp Firewood: Celebrating the 10th Anniversary of Wet Hot American Summer," with 60 artists paying tribute to the classic cult comedy. If you've never seen Wet Hot American Summer, you are seriously missing out. Since it's release in 2001, it's paicked up quite an audience, and the stars of the movie have picked up some extremely successful careers (Paul Rudd, Bradley Cooper, Elizabeth Banks, Jimmy Fallon head writer AD Miles, Amy Poehler, Joe Lo Truglio, Judah Friedlander). Created by the brains behind the MTV sketch show "The State," this movie is an absurd spoof of the 1980's sleepover camp (Meatballs-esque) comedy. You can check out the trailer by CLICKING HERE. And we're insanely privileged to have the movie's director and co-writer, David Wain, to host the art show! DREAMS DO COME TRUE. AND, we'll be producing a screening, along with the Q&A podcast with Jeff Goldsmith, but we'll have more details on that later. If you haven't seen the movie, it was currently added to Netflix streaming, so you have no excise now. (p.s. it's NSFW). Then come celebrate the movie's anniversary with us at G1988: Venice on June 10th, from 7-10 PM.
I can't reveal the piece i created for the show just yet but check back soon!
Next up is the Teenage Mutant Ninja Turtles show called Shell Shock presented by the Autumn Society of Philly.
You are invited to one of the most EPIC pop-culture art shows we've ever put together! The Autumn Society (www.theautumnsociety.com) & Brave New Worlds Comics (Old City, Philadelphia / www.bravenewworldscomics.com) join forces once more to bring you SHELL SHOCK (A TMNT ART SHOW & TRIBUTE).

Please join us in celebration to these heroes in a half shell that made our childhoods and the past 25+ years radical! Not only will the event be filled with most outstanding TMNT art, but we will be visited by Brittney Schneck's TURTLE VAN!!! Other super-rad surprises are planned as well.

You do not want to miss this one! COWABUNGA DUDES!

For updates on SHELL-SHOCK, CLICK HERE!
I will post the TMNT piece as soon as it is ready for your peepers! Stay tuned!